Newport Beach International Boat Show – April 27-30, 2023
Date/Time
Date(s) - 04/27/2023 - 04/30/2023
All Day
Location
Lido Marina Village
3424 Via Lido
Newport Beach,
Revel Republic is proud to announce the inaugural Newport Beach International Boat Show, set to take place April 27-30, 2023, in Newport Beach's beautiful Lido Marina Village!
This luxurious event will showcase the best in boating, yachting, and marine technology, offering attendees a one-of-a-kind experience that captures the essence of Newport Beach's elevated lifestyle.
Guests can explore an impressive selection of boats and yachts ranging from high-performance powerboats and sailboats to luxury super yachts. In addition to these spectacular watercraft, the show will feature live performances and a variety of marine-related exhibits and demonstrations from over 75 exhibitors, displaying the latest in marine technology, accessories, and services.
NBIBS is more than just a showcase of the finest boa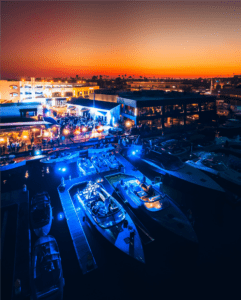 ts and yachts from today's top builders and brokerages. It's a celebration of the Newport Beach lifestyle and all that it represents—the love of the ocean, the pursuit of adventure, and the enjoyment of the finer things in life. With a range of social and recreational activities on and off the water, including live music, gourmet food and drinks, shopping at Newport Beach's fashionable boutiques, and much more, this event promises to be a truly memorable experience for all who attend.
Bernard Kida, Executive Producer and Co-Owner of Revel Republic, explains, "The demographic of boat owners has broadened, which brings a younger entry point to the industry. These new individuals to the market offer an opportunity for fresh brands and elevated experiences that complement their lifestyle preferences."
Revel Republic is working in partnership with global ad agency TRAFFIK to transform the boat show from a standard exhibition to an immersive celebration of the culture of Newport Beach. TRAFFIK will assist the team with its data-driven strategies, innovative marketing solutions, and vast network to increase the overall reach and further publicize the event to the proper demographics.
"Audience engagement across every touchpoint is important to the producers. Not only does it elevate the overall guest experience, but it also delivers better outcomes for the growing list of brokerages, exhibitors, and partners participating in the project," said Anthony Trimino, TRAFFIK founder and Revel Republic partner. "A new identity, branding, website, and marketing strategy coupled with a new team obsessed with creating an incredibly immersive experience at the biggest boat show in SoCal means that NBIBS is set to make a splash in 2023 that you won't want to miss!" – International Boat Show, February 2023